53 New Week Affirmations For Positivity, Abundance, Happiness & Success
Try these new week affirmations to start your week off with gratitude and positivity so that you can enjoy an abundant, happy and successful week.
By starting off this new week with these affirmations, you can create ripples of positive change that have the potential to transform you life.
It's widely believed that you become what you think about and focus on. So, if you want to create a week full of positivity, happiness, and success, it is important that your thoughts reflect these intentions.
One of the best ways to ensure that your thoughts are in alignment with your desired outcome is to regularly recite positive affirmations.
So, let's get a head start on manifesting your best week yet with these positive affirmations for the new week.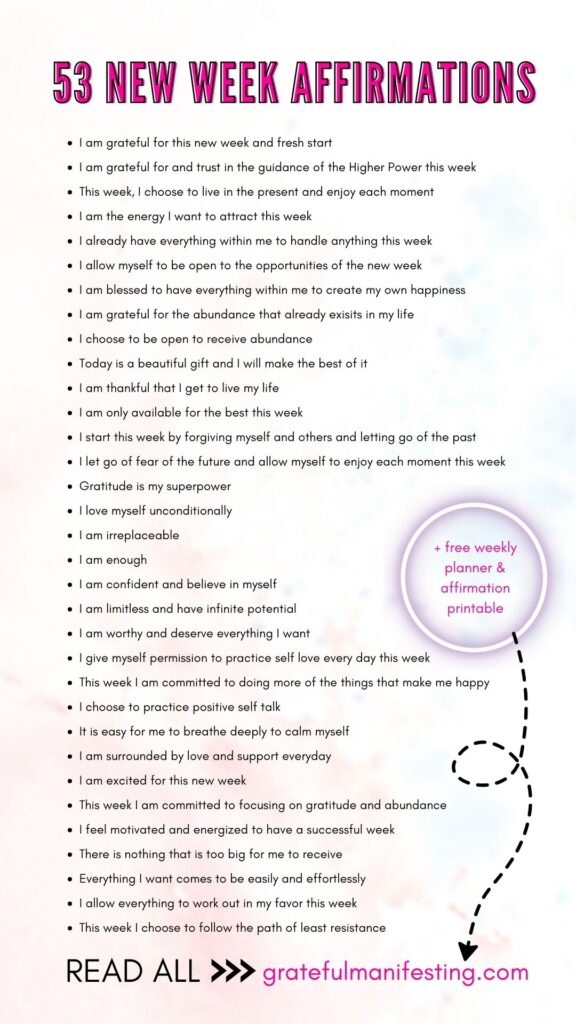 53 Positive Affirmations For The New Week
I am grateful for this new week and fresh start
I am grateful for and trust in the guidance of the Higher Power this week
This week, I choose to live in the present and enjoy each moment
I am the energy I want to attract this week
I already have everything within me to handle anything this week
I allow myself to be open to the opportunities of the new week
I am blessed to have everything within me to create my own happiness
I am grateful for the abundance that already exisits in my life
I choose to be open to receive abundance
Today is a beautiful gift and I will make the best of it
I am thankful that I get to live my life
I am only available for the best this week
I start this week by forgiving myself and others and letting go of the past
I let go of fear of the future and allow myself to enjoy each moment this week
Gratitude is my superpower
I love myself unconditionally
I am irreplaceable
I am enough
I am confident and believe in myself
I am limitless and have infinite potential
I am worthy and deserve everything I want
I give myself permission to practice self love every day this week
This week I am committed to doing more of the things that make me happy
I choose to practice positive self talk
It is easy for me to breathe deeply to calm myself
I am surrounded by love and support everyday
I am excited for this new week
This week I am committed to focusing on gratitude and abundance
I feel motivated and energized to have a successful week
There is nothing that is too big for me to receive
Everything I want comes to be easily and effortlessly
I allow everything to work out in my favor this week
This week I choose to follow the path of least resistance
I am committed to starting each day this week with a grateful heart
This week I choose to let go of judgement and comparisons
I let of negativity and choose to replace it with positive energy this week
I let go of the things that are out of my control
I release fear and self liming beliefs that stand in my way this week
Every step I take this week is in the direction towards my intentions and goals
My thoughts create my current reality and I choose to have grateful and positive thoughts
My success is inevitable
I am grateful for the financial abundance that I already have
This week I am empowered to improve my financal situation
It is safe for me to have financial abundance and freedom
I am open to receive wealth and abundance
It is easy for me to manage my money wisely
I trust that everything always works out of me in the best way and at the right time
My ideas and opinions are valuable and make a positive change
I am attracting loving, supportive relationships into my life this week
I am focused on enjoying the opportunities and experiences of this new week
My good energy attracts good things this week
This week I am a magnet for positive experiences
This is going to be a great week!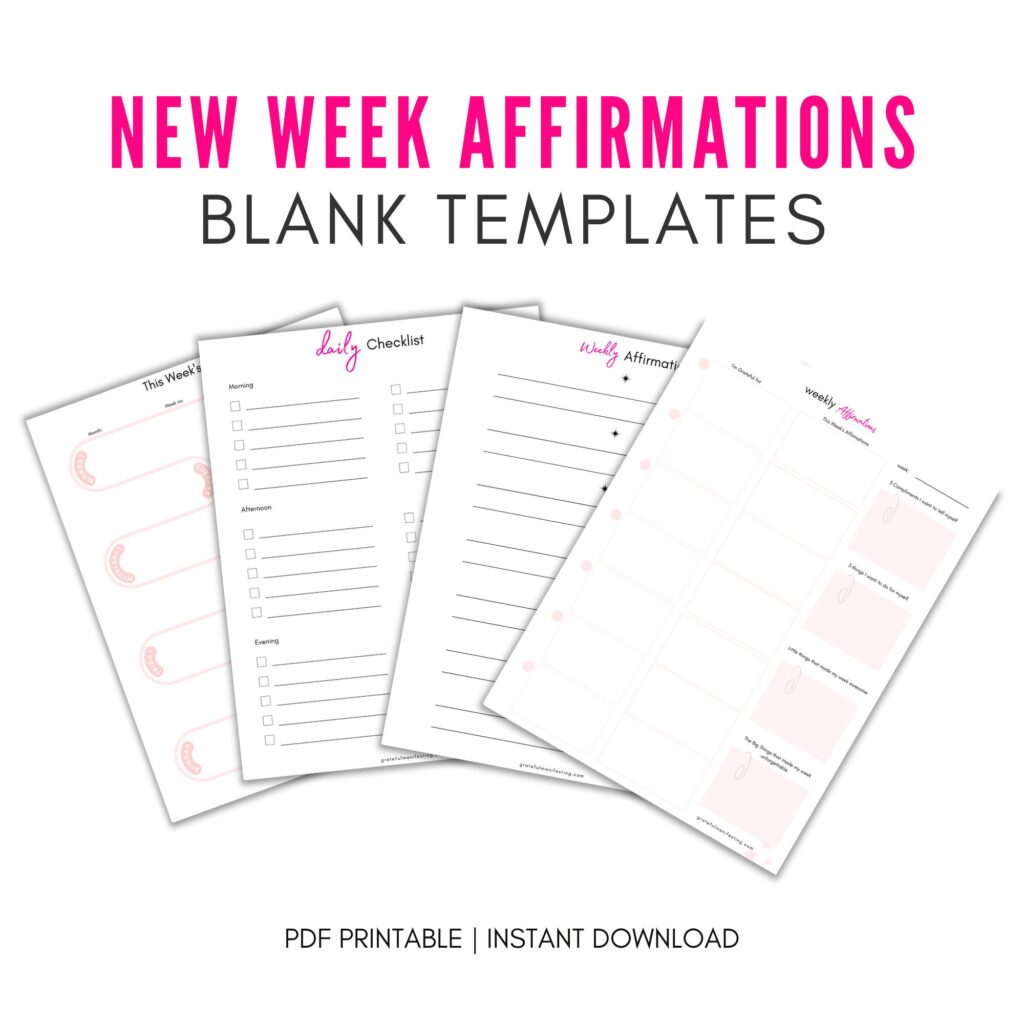 You will also love these affirmations for the week:
You will also love these popular affirmations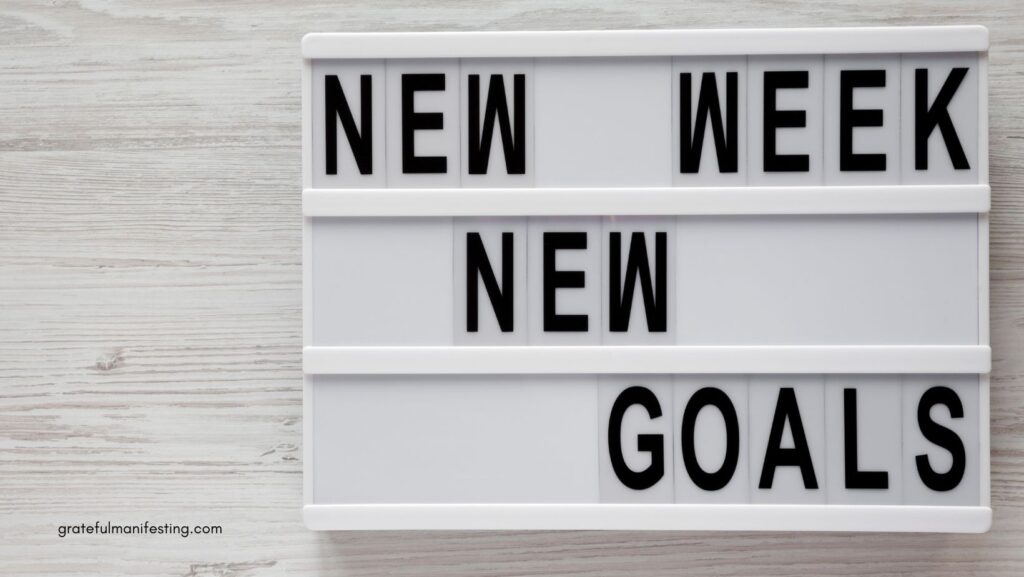 How To Practice Positive Self Talk
Breathing deeply to help you to relax
Visualize as you are repeating the affirmation
Repeat the affirmation with emotion and feeling
Believe in the affirmation
Take some time to reframe those negative thoughts and beliefs into positive statements and look for evidence to support your new positive thoughts. The evidence will help you to believe in the affirmation over time.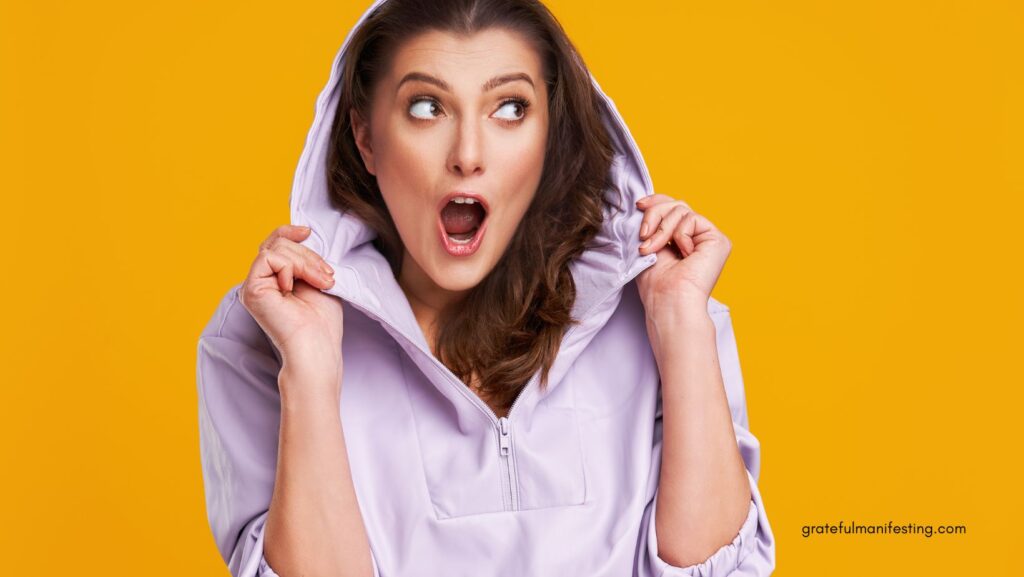 Here are some ideas of how you can use positive affirmations
bookmark this page to choose an affirmation daily
choose one affirmation for every week of the year and make it your mantra of the week
choose one affirmation for each day of the new week
start and end your day with a new week affirmation that resonates with you
write your affirmations for the new week on a post it and sitck it in areas where you will see them often
write them down on pieces of paper or post-it notes and carry them around with you to read throughout the day
record yourself saying your affirmations and listen to them
say your affirmations out loud to yourself multiple times each day
create a wallpaper for your digital device
start planning your day by writing your self affirmation
create reminders on your digital device using your favorite self affirmation
create a self affirmation jar and grab one each day
send yourself a daily email with your affirmation
You can also use these new week affirmations as inspiration to create your own affirmations.
I find the best way to create your own affirmations is to try to focus on using positive words and avoid using negative words.
The key is to find a method that works for you and then be consistent with it. The more often you remind yourself of your positive qualities, the more likely you are to believe them and achieve your goals.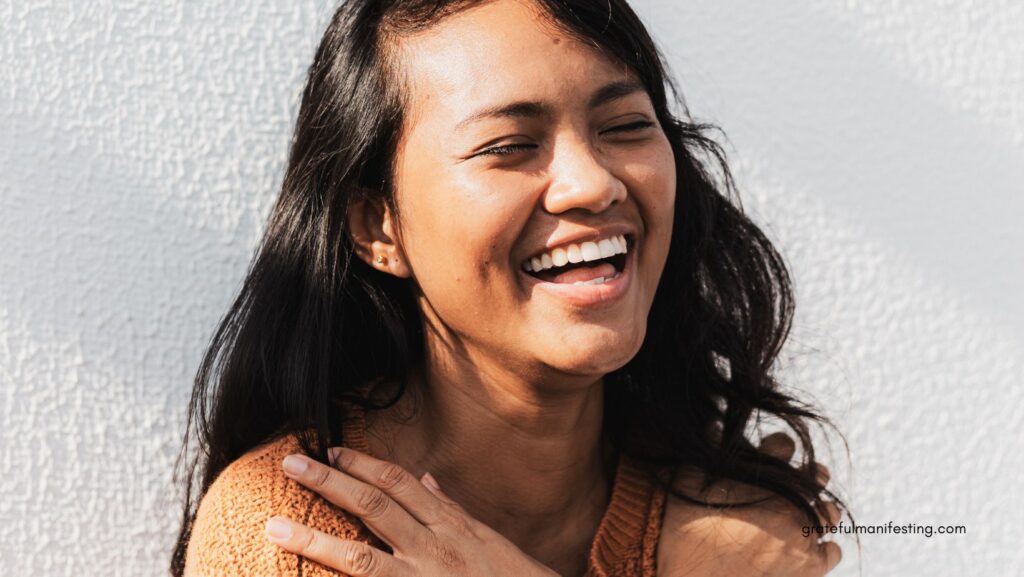 When To Repeat New Week Affirmations
So when should you repeat your affirmations for the new week? Every day, consistently.
You can repeat the affirmations that resonate with you once in the morning, once at night and at any time suring the day that feels right for you.
Repeat them especially on those days and at those times when you're feeling self doub or negative thoughts creeping in.
Each time your repeat your affirmations, be sure you're really feel the words, visualizing and believing them with all your heart.
Remember that your affirmations are working – even when you don't see results right away. So, keep going!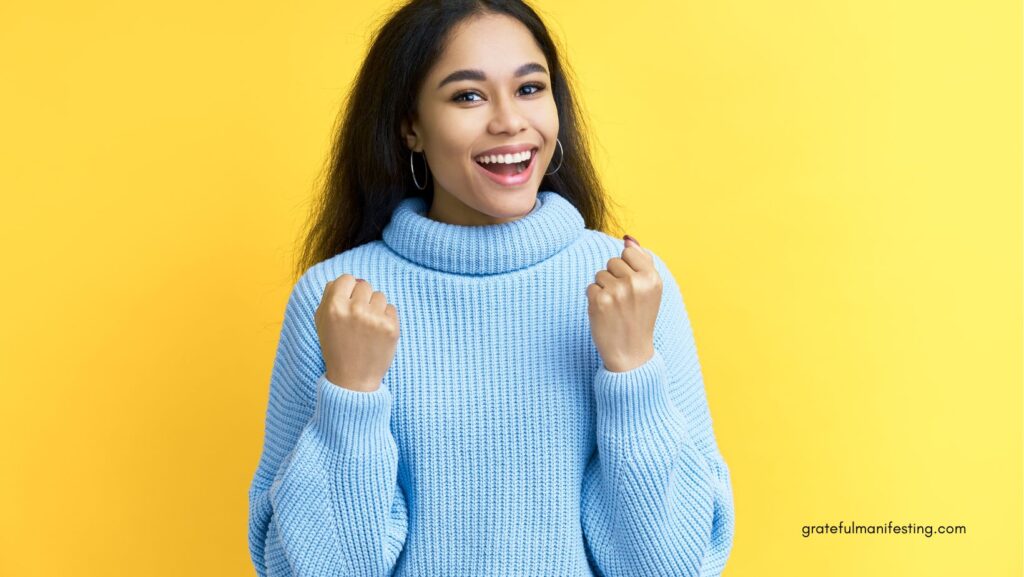 Take Away
These new week affirmations are a great way to help make each day the best possible.
Every day this week, commit to choosing at least one affirmation to repeat throughout your day.
The positive changes from affirmations take time, patience, and consistency. So keep at it every day and soon enough it will become one of the healthiest, most transformative habits in your life.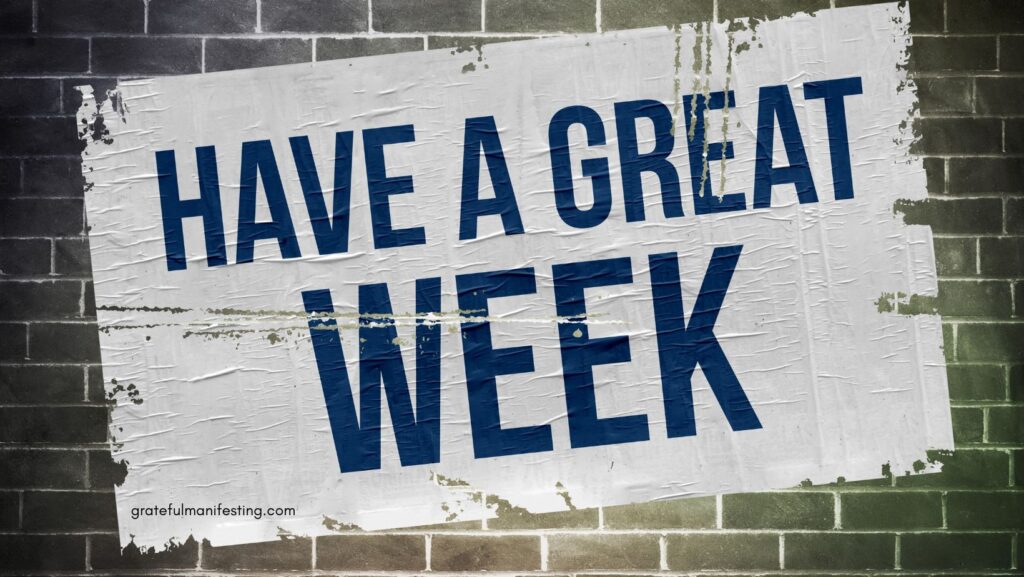 You will love these affirmations
Posts To Help You Manifest Anything In Your Life
Personal Growth